Impossible Cheeseburger Pie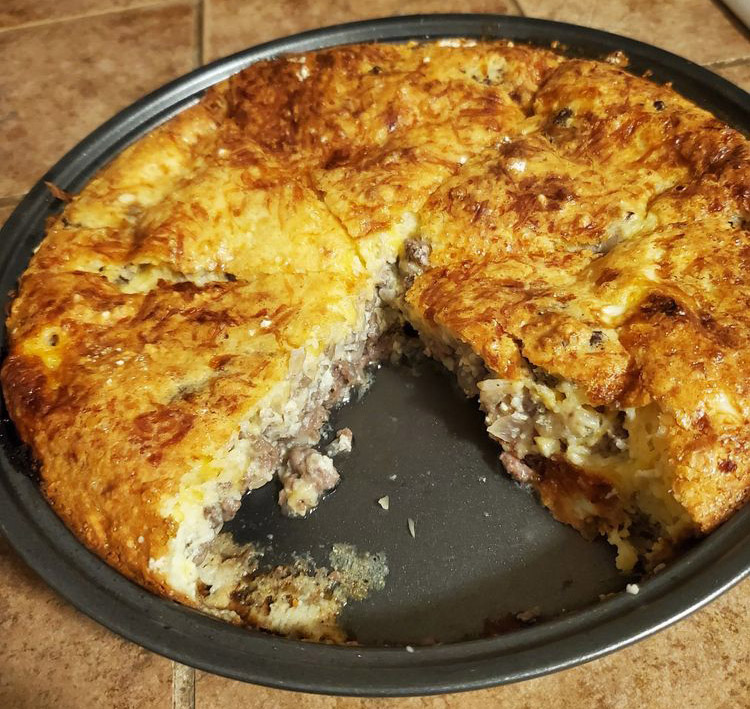 Ingredients
1 1/2 pounds lean ground beef
1/2 cup chopped white onion
1 teaspoon minced garlic
1/2 teaspoon salt
1/4 teaspoon pepper
1 cup shredded cheddar cheese
1/2 cup Bisquick mix
1 cup milk
3 large eggs
Instructions
Preheat the oven to 400º Fahrenheit. Spray a 9″ round deep dish pie plate (or cake pan) with cooking spray.
Using a skillet over medium heat, brown the ground beef and the onions together until the beef is no longer pink and the onions are translucent. Drain off any fat.
Add in the minced garlic, salt and pepper. Mix well.
Spread the beef mixture in the bottom of the prepared pie plate. Sprinkle the shredded cheese over the top.
In a small bowl, whisk together the Bisquick mix, milk and eggs.
Pour evenly over the beef and cheese.
Bake for 30 minutes or until the middle of the pie is set and the top is golden brown. A knife inserted in the center should come out clean.
Serve immediately.
Well, that's all the news from the south,
Happy" farming" to all the farm girl sisters out there.
See you next time down on the farm..