These German Chocolate Brownie Cookies are delicious, soft and chewy. Topped with gooey coconut pecan caramel frosting and drizzled with chocolate! YUM.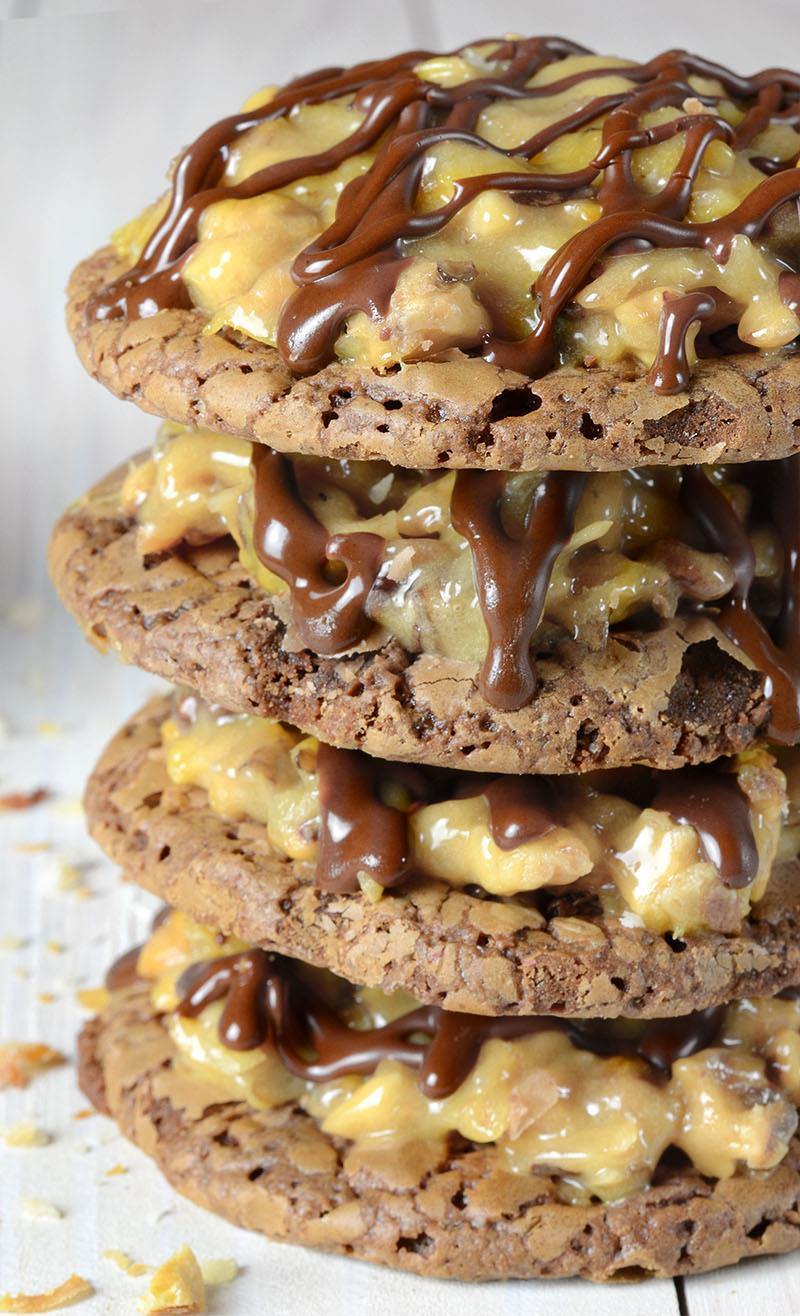 ---
Ingredients
For Brownie Cookies:
8 oz

 semisweet chocolate- chopped

2 tablespoon

s unsalted butter (room temperature)

2

 eggs

½ cup

 + 

2 Tbsp

 granulated sugar

½ teaspoon

 vanilla extract

½ cup

 all-purpose flour

¼ teaspoon

 baking powder
For German Chocolate Topping:
1 cup

 evaporated milk

1 cup

 sugar

3

 egg yolks

½ cup

 butter-softened

1 tsp

. vanilla

1⅓ cup

 sweetened shredded coconut-toasted

11/4 cup

 chopped pecans-toasted

5 oz

. melted chocolate- for drizzle
Instructions
To make the cookies:
Preheat the oven to 350°F and line two large baking sheets with parchment paper, set aside.
Melt the butter and 8 oz. semisweet chocolate in a heatproof bowl over a saucepan of barely simmering water, stirring occasionally until smooth.
Stir together the eggs, vanilla and granulated sugar in a medium bowl, set aside.
Whisk together the flour and baking powder.
Add cooled melted chocolate mixture to the egg mixture and stir to combine.
Slowly add dry ingredients and stir until it is well incorporated. If the batter is to thin to scoop out, leave it in the fridge until it's firm enough to handle!
Scoop about 1½ tablespoons of batter onto prepared baking sheets, leave 2 inch apart because the cookies will flatten while bakes.
Bake for 10 minutes or until they are firm on the outside, but do not overbake!
To make the topping:
Combine evaporated milk, sugar, egg yolks and butter in a large saucepan and cook on stovetop over medium heat, stirring until thickened (about 12 minutes). Once thickened remove from heat and stir in vanilla, toasted coconut and pecans, stir well!!!Set aside to cool enough to spread on tops of the cookies.
Spread topping over the cooled cookies, let it set, then drizzle with melted chocolate.
Store in the fridge in an airtight container.
Well,   that's all the news from the south,
Happy" farming" to all the farm girl sisters out there.
See you next time down on the farm..