COCONUT CREAM POKE CAKE WITH COCONUT WHIPPED CREAM FROSTING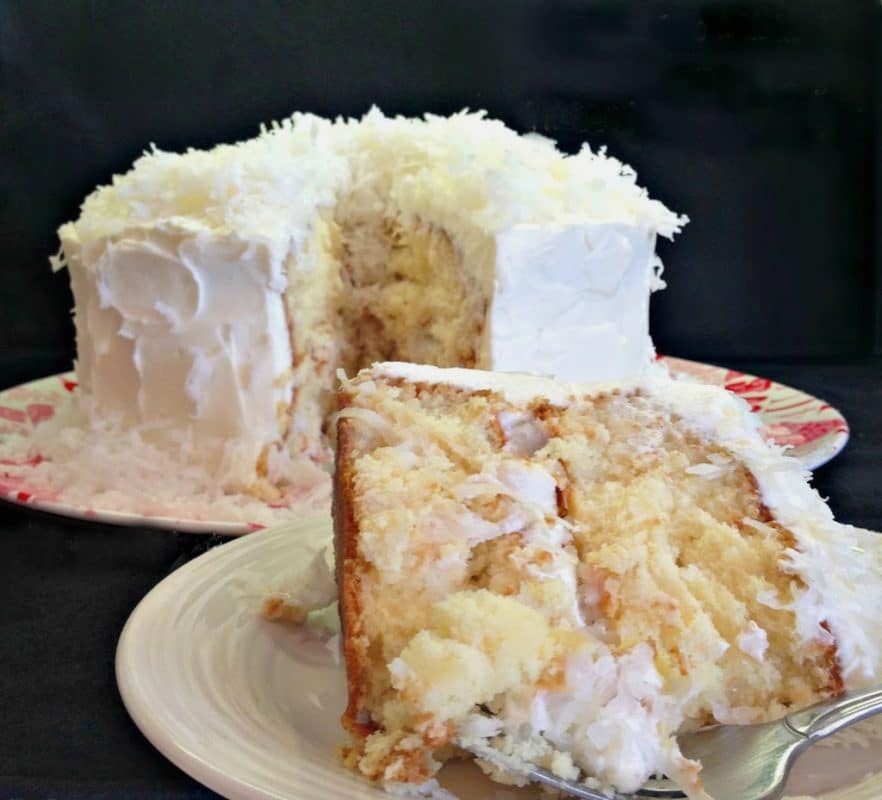 INGREDIENTS
Cake:
1 box of white cake mix
1 3.4 ounce box of instant vanilla pudding
1 1/4 cup milk
1/3 cup oil
3 egg whites
1 teaspoon coconut extract
"Poke" Cream:
1- 15 ounce can coconut cream
1- 14 ounce can sweetened condensed milk
Frosting:
1- 8 ounce package cream cheese, softened
1/2 cup sugar
1 teaspoon coconut extract
1/2 teaspoon almond extract
2 cups heavy whipping cream
2 1/2 cups shredded sweetened coconut
INSTRUCTIONS
Preheat oven to 350 degrees and grease and flour 2 – 9″ cake pans.
In your mixer, combine all of the ingredients for the cake for about 30 seconds, then beat for 2 minutes.
Distribute evenly in each cake pan and bake for 30 minutes or until a cake tester comes out clean.
Combine ingredients for cream and set aside.
While cakes are warm poke holes all over with a large fork or skewer.
Pour cream mixture over the top of the cakes.
Place in the refrigerator for about 5 hours, or overnight is even better.
To make the frosting, cream together cream cheese, sugar and extracts until smooth.
Then, with the whisk attachment, slowly add the whipping cream and whip until stiff peaks form.
To remove the cakes from their pans: This is a little tricky. I took a thin knife and ran it around the edge, and I sat the bottom of the pan in hot water for a minute or two, to loosen it up. I flipped it out onto a piece of waxed paper, then flipped it again onto my plate.
Top with bottom layer with a little frosting, and about 1/2 cup of coconut.
Place the second layer on top, frost, and top with remaining coconut.
Well,   that's all the news from the south,
Happy" farming" to all the farm girl sisters out there.
See you next time down on the farm..