Magic Custard Cake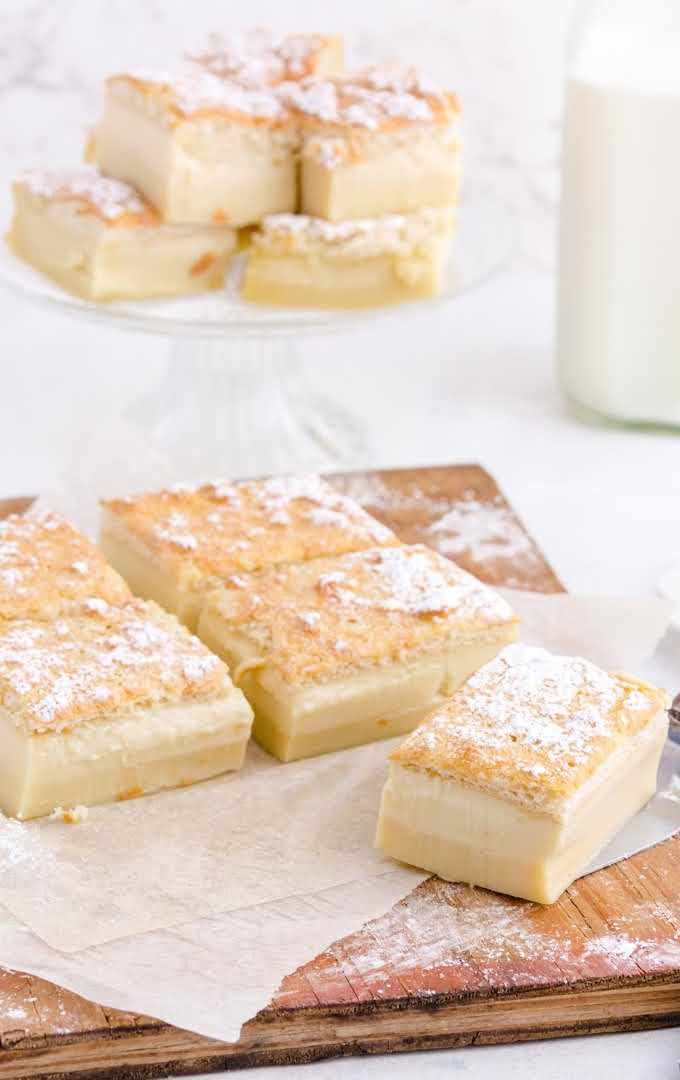 Ingredients 1x2x3x
4 large eggs separated, at room temperature
1 cup baker's sugar superfine sugar
½ cup salted butter melted and cooled
2 teaspoons vanilla extract
1 cup all-purpose flour
1 ½ cups whole milk lukewarm
½ cup heavy cream lukewarm
Instructions
Preheat oven to 325°F. Butter an 8"x8" square baking pan.
In a mixing bowl, beat the egg yolks and sugar until pale yellow and creamy, about 1 to 2 minutes.
Add the melted and cooled butter and vanilla extract and beat to combine fully.
Beat in the flour.
Combine the milk and cream together and slowly pour into the batter, mixing to combine.
Beat egg whites in a standing mixer with the whisk attachment until stiff peaks form.
Use a large whisk to lightly incorporate egg whites into the batter. Add in 2 to 3 additions and only whisk slightly. The batter will have two distinct textures – a very thin, runny batter with the lightly incorporated egg whites floating on the top of the batter.
Pour batter into the prepared baking pan.
Bake for approximately 40 to 45 minutes. The cake is done when the center is still jiggly, but the batter does not slosh in the pan. The top will be lightly browned.
Remove from the oven and allow to cool completely.
Allow the cake to sit for 2 to 3 hours before dusting with powdered sugar and cutting into 9 pieces.
Well, that's all the news from the south,
Happy" farming" to all the farm girl sisters out there.
See you next time down on the farm..