Pumpkin Magic Cake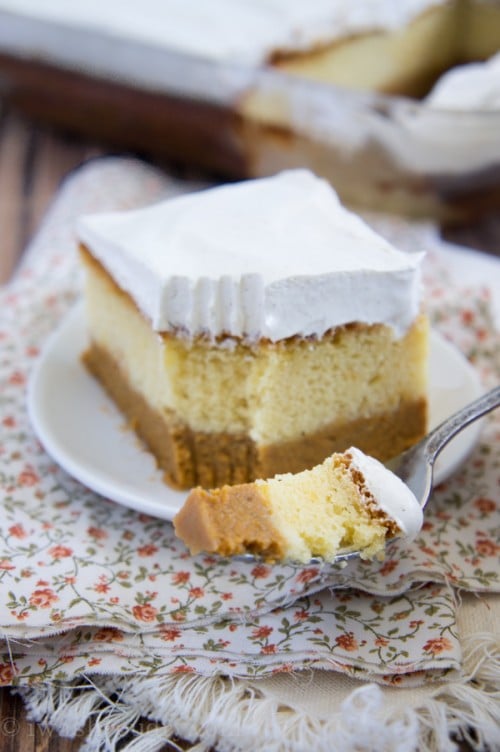 PumpkinMagic Cake has a layer of pumpkin pie on the bottom, a layer of cake in the middle, finished off with a sweet layer of pumpkin pie spiced pudding/frosting
Ingredients
For the Cake
1 box of yellow cake mix PLUS ingredients needed to make, eggs, water, oil
For the Pumpkin Pie
1 15oz can Pumpkin Puree
1/2 cup evaporated milk
1/2 cup heavy cream
3 eggs
1 cup brown sugar
1 tsp pumpkin pie spice
For the Frosting
1 4 serving size box vanilla instant pudding mix
1 tsp pumpkin pie spice
1 cup cold milk
8 oz Cool Whip, thawed
Instructions
Preheat oven to 350 degrees F.
Prepare box of cake mix according to package instructions, then pour into a lightly greased 9″x13″ cake pan. DO NOT BAKE. Set aside.
In another bowl whisk together the ingredients for the Pumpkin Pie (pumpkin, evaporated milk, cream, eggs, brown sugar, and pumpkin pie spice), until smooth. Slowly pour the pumpkin pie mixture all over the cake mix.
Carefully place cake into the oven and bake for 50-60 minutes or until the center is no longer jiggly, and a toothpick inserted into cake mix comes out clean. NOTE: The cake might be slightly darker than normal, but still tastes great. Let cool to room temperature.
Make the frosting: Place the vanilla pudding mix into a large bowl, add the pumpkin pie spice and pour in the cold milk. Whisk until combined and starting to thicken. Gently fold in the Cool Whip until it's completely combined. Spread on top of the cooled cake.
You can serve now, or chill the cake, and serve when chilled. Either way tastes great. Enjoy!
Notes
Before baking the cake, you can place it on top of a rimmed baking sheet just in case any of the cake spills over the edge of the pan while baking.UPDATE: After you are done baking the cake, it may look like it did not settle into layers, but it has! Frost it, cut it, and marvel at it's awesomeness.
Well, that's all the news from the south,
Happy" farming" to all the farm girl sisters out there.
See you next time down on the farm..