CREAMY GARLIC MUSHROOMS AND BACON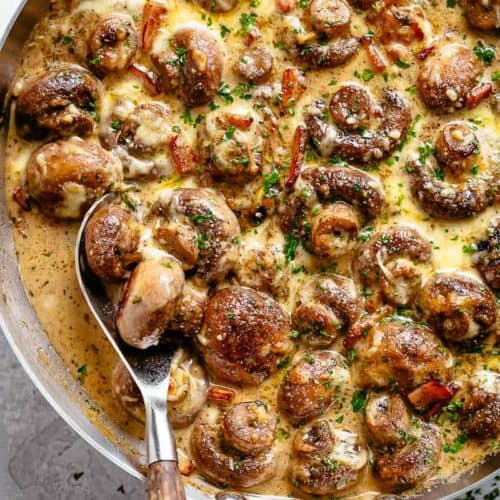 Fry the bacon until crispy.
Melt the butter in some leftover bacon grease.
Fry mushrooms.
Pour in dry white wine. Use a good quality Pinot Grigio, Chardonnay or Sauv Blanc. (Substitute wine for chicken stock or broth.)
Add garlic.
Simmer with heavy cream and herbs.
Top with mozzarella and parmesan cheese.
Broil (or grill) until cheese is melted and bubbling.
how to clean mushrooms
Wipe over each mushroom with a damp paper towel for soft pastry brush if needed to remove loose dirt and debris. Work one at a time.
Lightly rinse under cold water and thoroughly pat dry with paper towel.
Avoid soaking them as they will absorb water like a sponge and won't brown during cooking.
You want them to brown and crisp nicely before adding the cream sauce.
Well,   that's all the news from the south,
Happy" farming" to all the farm girl sisters out there.
See you next time down on the farm.