Banana Cream Cheesecake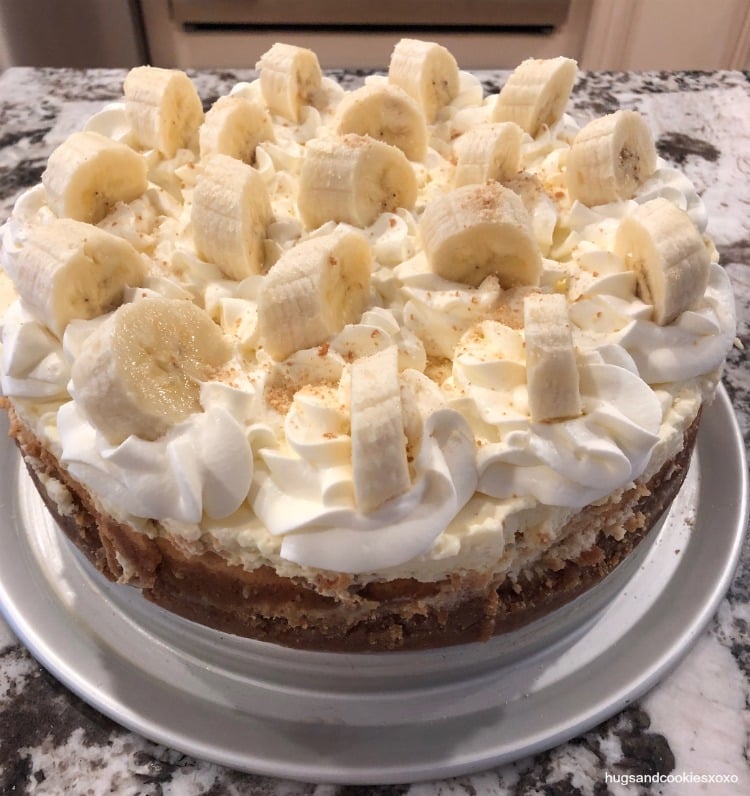 Ingredients
crust
2¼ cups Nilla wafer crumbs
10 T. melted butter
3 T. sugar
Cheesecake
24 ounces soft cream cheese
1 cup sugar
3 T. flour
¼ cup sour cream
1 cup pureed bananas (I used food processor)
3 eggs
Bavarian Cream
1 tsp powdered gelatin
2 T. whole milk
2 egg yolks
½ cup heavy cream
2 T. sugar
¾ tsp vanilla
⅔ cup heavy cream
5 T. powdered sugar
Whipped Cream for Piping
½ cup heavy cream
¼ cup powdered sugar
½ tsp vanilla extract
Fresh bananas, sliced for garnish
Instructions
Preheat oven to 325°F
Line a 9-inch (23cm) springform pan with parchment paper in the bottom and grease the sides.
Crust
Combine the ingredients and press into bottom of the pan and up the sides.
Bake 10 mins. Cool and lower oven to 300 degrees.
Prepare a water bath or use a moat pan as I like to do.
Cheesecake
In mixer, beat cream cheese, sugar and flour on low.
Add sour cream.
Add banana puree,.
Add one egg a time until smooth.
Pour into crust and bake at 300 degrees for 90 mins. (In water bath or moat pan)
Shut oven off and keep cheesecake in closed oven 30 mins.
Crack the door open for an additional 30.
Let cool to room temp and place in fridge to chill.
Bavaraian cream
Mix gelatin into milk and set aside.
In a bowl, whisk yolks.
In a saucepan, heat the cream, sugar and vanilla to warm up.
Slowly pour hot cream into eggs and then pour it all back into pan until 160 degrees.
Add the gelatin mix and stir smooth.
Transfer custard to a clean bowl and place in a larger bowl with ice in it to cool it down.
Meanwhile, whip cream and sugar to stiff peaks and fold into cooled custard.
Spread over the cheesecake and chill hours.
Cream
Beat cream, sugar, vanilla.
Pipe onto cake and add sliced bananas.
Sprinkle with extra Nilla Wafer crumbs if desired and serve with caramel on the side.
Well,   that's all the news from the south,
Happy" farming" to all the farm girl sisters out there.
See you next time down on the farm.