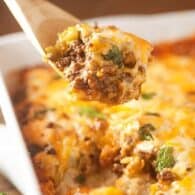 BUBBLE UP ENCHILADA BAKE
 10 MINUTES
 30 MINUTES

 6
 40 MINS
 This bubble up enchilada casserole gets it's name from the way the biscuits bubble up as they bake!
INGREDIENTS
1 package Pillsbury Grands! biscuit dough
10 ounces enchilada sauce
1 pound ground beef
1 packet taco seasoning
4 ounce can diced green chiles
1 cup grated cheddar
1 cup grated pepper jack or monterey jack
cilantro, for garnish
avocado or guacamole, for serving
INSTRUCTIONS
Preheat oven to 350 degrees.
Open the biscuits and slice each biscuit into 8 small pieces. Add to a medium bowl and pour the enchilada sauce over the top. Stir to coat.
Brown the ground beef in a large skillet. Drain the grease and stir in the taco seasoning and 2 tablespoons of water. Stir in the green chiles.
Pour the biscuits and enchilada sauce into a 9×13 baking dish. Top with the ground beef. Sprinkle the cheese evenly over the top.
Bake for 30 minutes or until the biscuits are cooked through and the cheese is fully melted.
Top with cilantro, avocado, sour cream, hot sauce, etc.