Caramel Banana Cream Pie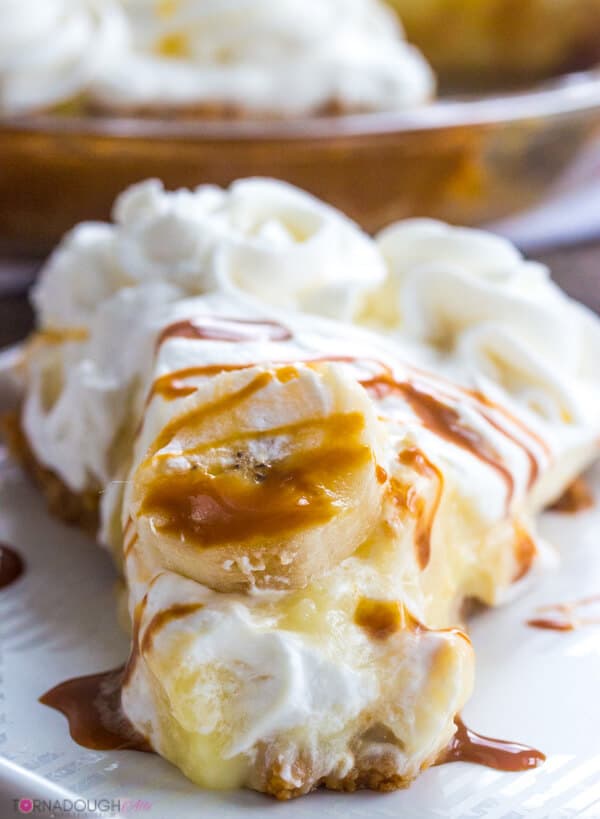 Creamy and delicious this Caramel Banana Cream Pie takes the traditional and kicks it up a notch.
–
Ingredients
Filing:
2 cups milk
2/3 cup sugar
3 Tbs cornstarch
Pinch salt
1 egg
1 egg yolk
2 Tbs butter
2 tsp vanilla extract
2 large bananas sliced
Cool Whip or Homemade Whipped Cream
1/2 cup caramel sauce or dulce de leche
Crust:
1 sleeve graham crackers about 9
4 Tbs butter melted
1/3 cup sugar
Instructions
1. In sauce pan mix together your milk, sugar, cornstarch, salt, egg and egg yolk.
2. Heat on medium until bubbly and thick. Remove from heat and stir in your butter and vanilla until butter is melted.
3. Cover with plastic wrap and place in refrigerator and let cool to room temp.
4. Meanwhile preheat oven to 350.
5. To make your graham cracker crust add your graham crackers to a food processor and pulse until fine crumbs
form, add in your butter and sugar and pulse again until its all wet.
6. Press into a 9″ pie plate and bake in oven for about 7-10 minutes, remove and let cool.
7. Once everything is cooled add your caramel sauce to your pie crust.
8. Top with half your your pudding mixture and then your sliced bananas then top with remaining pudding mix.
9. Cover and chill for at least 4 hours if not overnight which is what I like to do.
10. Once chilled top with cool whip and serve!
Well,  that's all the news from the south,
Happy" farming" to all the farm girl sisters out there.
See you next time down on the farm.